CHECK OUT THE REST OF THE
CILISOS MEDIA NETWORK:
CHECK OUT THE REST OF THE
CILISOS MEDIA NETWORK:
A Decrease font size. A Reset font size. A Increase font size.
Hey hey, people. Job scams. If you have a smartphone, you've probably either received texts like these: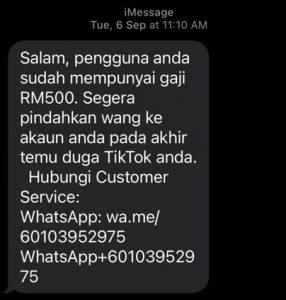 …or seen ads like these on social media: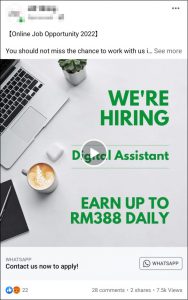 That's basically how job fraud syndicates lure unsuspecting prey into emptying their bank accounts, becoming money mules or even slavery (see: recent Cambodia job scam). As you can imagine, people have been royally screwed over by these job scams, but there's another category of victims we don't usually hear about…
Yeah, companies. We don't usually hear their side of the story even though they're also affected by a job scam, but Magnus Digital, a local digital marketing agency reached out to us. Here's what happened to them.

It started one day in February 2022 when someone WhatsApp'ed Magnus Digital's business number. Reggie (a pseudonym), a co-founder of the company, picked up the phone to see a text asking if they were hiring people for part time jobs. Confused, he replied saying that they weren't. Reggie didn't suspect anything at the time, since it wasn't anything too outlandish.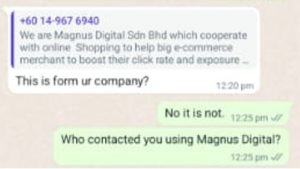 Then a second person slid into their DMs asking the same thing. Then a third, and the third person had allegedly spent money for the part time job they got with "Magnus Digital", despite the fact that Magnus never took on any part timers. Whenever Reggie got texts from these victims, he would advise them to make a police report and whenever possible, try to help them with the process.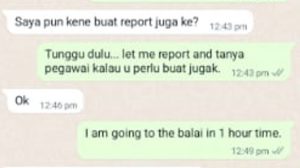 Ah, but we're forgetting something here – how did this specific job scam work? Essentially, victims were tasked to buy stuff online – they were required to pay for online purchases in advance, and the scammers would promise to pay them the purchase cost plus a commission on top. In the beginning, the victims would get paid, but they'd eventually realize something was up when they stop getting replies from the scammers.
So why Magnus Digital? Well, according to Reggie, they'd been operating for 5 years at this point, and he said that they're quite established in the industry, which was why:
Magnus Digital was really just an easy target, really, they weren't earmarked in particular by the scammers.

Img from Malay Mail.
Naturally, Reggie wanted to clear his company's name. He pinned a post on Magnus Digital's Facebook page announcing that they had nothing to do with the scam and telling victims to report their case to the authorities.
Perhaps predictably, Facebook users flocked to the post with comments warning other users to be wary of Magnus, despite their apparent innocence… and even worse, Reggie said the PDRM and Malaysian Communications and Multimedia Commission (MCMC) took no action to fix things.
"Yes, I did report this to the police and MCMC, but they told me they couldn't do anything" – Reggie, in an interview with CILISOS
This is the one of the reports Reggie made to the police.
For a couple of months, Magnus's sales suffered. They were getting less customers cuz potential clients would see the comments their Facebook page and be scared away. Who wants to do business with a company that looks dodgy, right? Reggie couldn't give us an estimate for how much exactly they lost in sales, but it was enough to make him very concerned.
Without any warning, the messages and comments stopped. There was peace from April till September of this year… until the texts started coming in again, which was why Magnus hit us up in the first place. As far as we know, the issue is still ongoing, and Magnus Digital is still kinda in a bind.

Like this, but more scummy.
It's really a shame that innocent companies like Magnus Digital have to put up with this kind of bull doo doo – in fact, it seems like the more your SME does well, the more likely scammers will use your company's name for their nefarious ends. How do we stop these scoundrels? There's probably no way for any one person or agency to do that; the best everyone can do might really be:
That being said, stay safe, and stay un-scammed, people.

Your email address will not be published. Required fields are marked *








Cilisos Media Sdn. Bhd. Copyright © 2020. All rights reserved.