Theresa Anne Salah – October 19, 2022
A pair of engineering alumni who transformed the standard of care provided to patients with rings stuck on their fingers are pitching their revolutionary products to Canada's most well-known venture capitalists.
Their startup company, Ring Rescue, will appear on the Oct. 20 episode of CBC's Dragon's Den at 8pm AST.
The Dartmouth-based company was founded in 2018 by engineering alumni Brad MacKeil (BEng'17), Patrick Hennessey (BEng'17), and Dr. Kevin Spencer (BEng'00 and MD'09), who is also a Dartmouth General emergency medicine physician.
Their first product, a Compression Device Kit, offers emergency responders with an alternative method to cutting valuable rings stuck on a patient's finger. The device uses air pressure to shrink the swelling in a patient's finger, allowing the stuck ring to easily slide off with the aid of a water-soluble lubricant. 
However, it's the company's latest product line that could steal the attention of the Dragons. 
Known as the Dolphin Ring Cutter, the device is designed to cut rings that are more severely lodged in place.
"This is the only electric ring cutter that is registered as a medical device and manufactured as such," says Hennessey. "A common pain point with existing ring cutters is you have to identify the ring material and pick the proper blade. Our design bypasses all of that. One blade, one cut."
And it does so safer and faster than any other product on the market, using a sophisticated computer system that allows the blade to spin at a slower rate, minimizing the amount of heat produced and protecting patients from the risk of potential burns.
"In many cases, professionals are currently using hardware power tools to cut off more complicated rings. This can cause a huge amount of heat generation and obviously it can burn patients," adds Hennessey.
The Dolphin is now part of a Ring Rescue Kit that also includes the company's Compression Device. The products are being sold to healthcare units, fire departments, correctional facilities, and jewellers across North America.
"The Compression Device can help get the rings off about 60 per cent of the time," says Hennessey. "But what we really learned was that our customers needed multiple tools in their toolbox (such as the Dolphin Ring Cutter) to be able to completely solve this problem."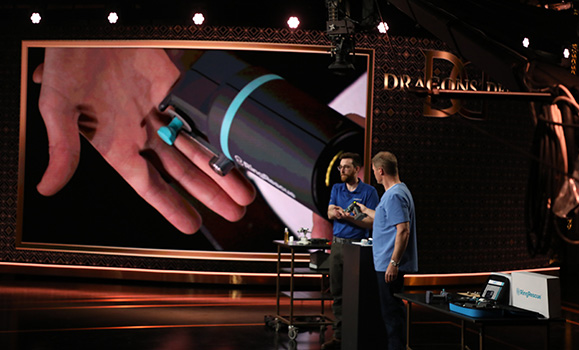 "We estimate that stuck rings are seen about 100,000 times a month in North America across medical professionals. So, if you haven't had a stuck ring, you probably know someone who has," he adds.
While in the Dragon's Den, Hennessey and Ring Rescue Co-Founder Dr. Kevin Spencer had only minutes to convey the magnitude of the problem and their business to a panel of Canadian business moguls.
The popular reality show invites aspiring entrepreneurs to pitch businesses and investment ideas to a panel of venture capitalists (also known as the Dragons) in the hope of securing business financing and partnerships.
"Obviously we've been pitching for investment money for quite a while, but when you're pitching to local investors they generally already know something about your business, so you don't have to explain the fundamentals," says Hennessy. "Dragon's Den was challenging because the Dragons have no idea about your business, the problem, or the industry. So you need to boil down four years of work into a one minute pitch."
"It was a very unique experience, and I think one of the most impressive things about the whole experience was the quality of the Dragons as investors," he adds. "I was genuinely impressed by how quickly they were able to hone in on the really important things and ask the really important questions."
Hennessey says the episode, which was filmed in Toronto last Spring, was a "bucket list" moment for the team and an opportunity for Ring Rescue to not only let the world know about their products and solutions, but also a chance to encourage and inspire young entrepreneurs.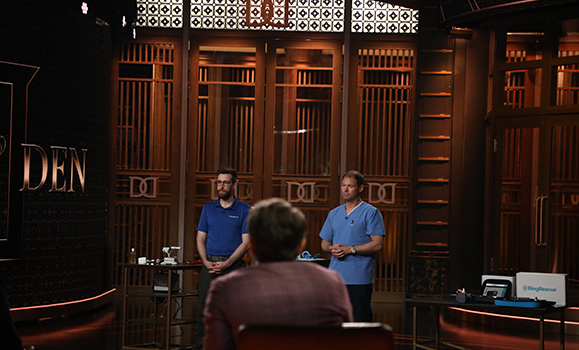 "Brad (MacKeil) and I are no Einsteins," jokes Hennessey when recalling their journey as entrepreneurs. "We're pretty regular people."
That journey first began with their Dalhousie Engineering Capstone Design project in 2017. The Capstone Program partners senior-year engineering students with members of industry to solve real world challenges. As part of their project, MacKeil and Hennessey were paired with local emergency room physician, Dr. Justin Clark, and designed what would become Ring Rescue's first product, the Compression Device. They later connected with Dr. Spencer who served as an industry judge that year at the Capstone Conference competition and was intrigued by their device.
While the Faculty of Engineering offers a wide variety of opportunities and resources that allow students to gain hands-on design experience and explore their entrepreneurial spirit, the Capstone Design program itself has generated a number of student startup ventures over the years.   
"Carving out a business was always something that Patrick (Hennessey) and I were both hoping to do with the Capstone project, but where it's ended up, I couldn't have imagined that," says MacKeil. "I think what I really couldn't have imagined is the quality of the product and the all-star team that we've got now."
Today, that team has grown to ten full-time employees, manufacturing products for customers in Canada and the United States, including the first shipment of Ring Rescue Kits which were shipped in mid-September.
As for their future with Dragon's Den? You'll need to tune in to CBC Thursday (Oct. 20) at 8pm AST to find out if Ring Rescue struck a deal with the Dragons.
Dal News welcomes discussion from members of the Dalhousie community and beyond, but urge comment writers to be respectful and refrain from personal attacks. False or unsubstantiated allegations, libellous statements and offensive language are not allowed. External links must be appropriate and relevant to the subject being discussed.
We encourage commenters to use their real first and last names.
Please note that comments that appear on the site are not the opinion of Dal News or Dalhousie University but only of the comment writer. The editors reserve the right to post, or not to post comments, edit or not edit, at their discretion.
Halifax, Nova Scotia, Canada B3H 4R2
1-902-494-2211
Agricultural Campus
Truro, Nova Scotia, Canada B2N 5E3
1-902-893-6600

Dalhousie University
Halifax, Nova Scotia, Canada B3H 4R2
1.902.494.2211